Futayo Yanagara
(柳柄 二世) is
Kyouichi
's and
Miyako
's great-aunt as well as
Gouichi
's sister.
Appearance
Edit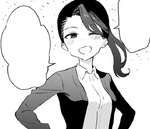 She has light colored hair pulled back into a single bun with a lock of hair extending from the bun, and she has a lock of hair loose from the side. She is seen wearing a yukata with a kimono under it.
When she was younger, she had a long ponytail.
Personality
Edit
Not much is known about her personality, but she shares the same belief as Gouichi about Kyouichi being a failure.
Etymology
Edit
Futayo (二世): Futa (二) means "two", while yo (世) means "generation" or "society".
Yanagara (柳柄): Yana (柳) means "willow", while gara (柄) means "design" or "pattern".
Relationships
Edit
Not much is known about their relationship, but she sees him as a failure.
Abilities
Edit
See Futayo Yanagara - Image Gallery